Senseonics (SENS) is expected to have a response of FDA approval soon.
Data presented in 2023 demonstrated strong accuracy with the 180-day sensor, as the next-generation Eversense matched performance levels compared to the current 90-day sensor available in the U.S., but with calibration reduced to essentially once per day.
In January, the Germantown, Maryland-based company said it expected approval "in the coming weeks." That approval, like everything, has been delayed and we're so appreciative of what these agencies have done, being able to bring forth such innovation to combat [COVID-19], so we're willing to step aside as we all have to be able to get a handle on this pandemic," said Kaufman.
An earlier version of the 180-day sensor is already available in Europe, with the same next-generation version nearing FDA clearance also under review in the EU. By doubling the duration of the current offering in the U.S., it halves the number of insertion and removal procedures while also reducing the calibration frequency after day 21 through a new calibration scheme.
Ascensia starts hiring for Eversense CGM
Ascensia is now hiring east and west area managers for the Eversense CGM system. Here's a snippet of what the job details connect to: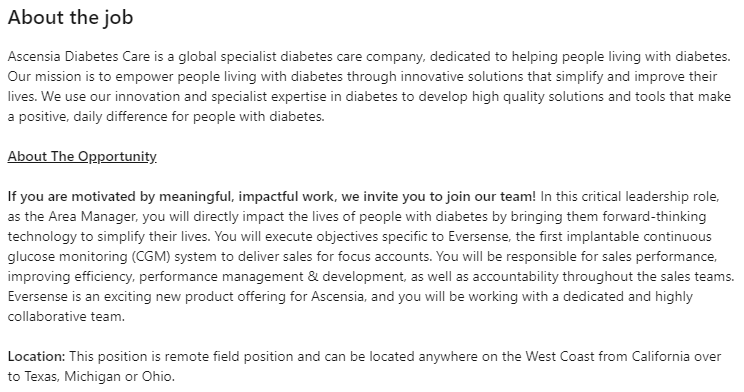 As you can see from the above description, the area managers will be executing objectives for the Eversense CGM systems. This could show a good sign that the the Eversense system passed FDA approval.