Bullish Global, with intent to merge with Far Peak Acquisition (FPAC) could rival Coinbase Global (COIN).
Bullish sets out to redesign the cryptocurrency exchange business model and anchors in a new breed of exchange. The company is looking to merge the benefits of DeFi (Decentralized Finance) and benefits of the ordinary crypto exchange to benefit asset holders, strengthen market integrity.
According to the company, the Bitcoin and crypto liquidity market is lucrative but inefficient, and primarily consists of exchanges that prosper at the expense of asset holders.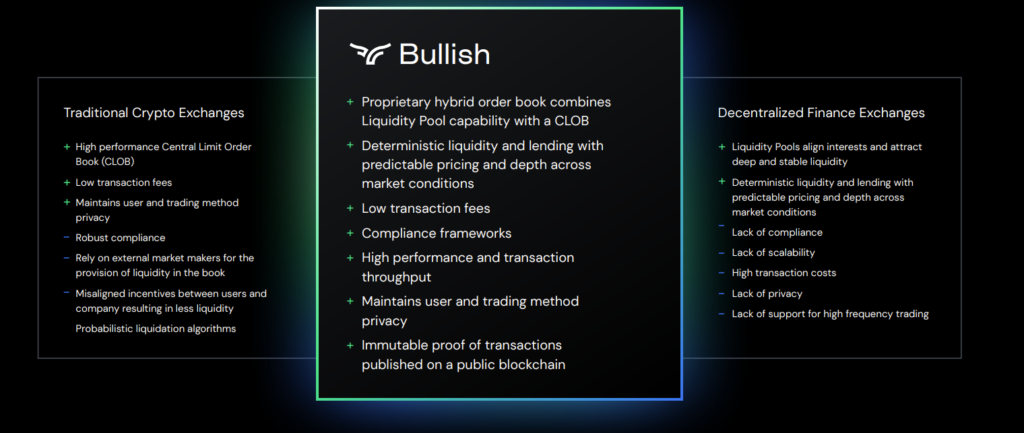 As you can see in the comparison above, Bullish will allow a hybrid exchange model. With this new model, the exchange will also be powered by liquidity pools that can generate yield with the benefits of automated portfolio management and passive income opportunities.
At launch, the exchange hopes to operate the BTC, USD, EOS, ETH and USDT market pairs.
Crypto exchange Bullish is set for a public listing through a merger with the special purpose acquisition company Far Peak Acquisition, led by former New York Stock Exchange President Thomas Farley. He will become CEO of Bullish.
The deal is expected to be completed by the end of 2021 and will see Bullish list on the NYSE.
At $10 a share, the merged company has a pro forma equity value of $9 billion, subject to the value of crypto assets when the deal closes.
Talks for a SPAC merger were reported in June with some suggestions that the deal could value Bullish at $12 billion.
Bullish is backed by a number of prominent investors including PayPal co-founder Peter Thiel and digital asset manager Galaxy Digital.
The crypto exchange was unveiled in May as a subsidiary of Block.one and capitalized with more than $10 billion in cash and digital assets, including 164,000 BTC.
SPAC mergers are a common way for crypto companies to go public, with exchanges like eToro and lending fintech SoFi following this route.