BioLargo, Inc. (OTCQB:BLGO) invents, develops, and commercializes innovative platform technologies to solve challenging environmental problems like PFAS contamination, advanced water and wastewater treatment, industrial odor and VOC control, air quality control, and infection control. With over thirteen years of extensive R&D, BLGO holds a wide array of issued patents, maintains a robust pipeline of products, and provides full-service environmental engineering.
BioLargo's peer-reviewed scientific approach allows them to invent or acquire novel technologies and develop them to maturity through their operating subsidiaries. With a keen emphasis on collaborations with academic, municipal, and commercial organizations and associations. BLGO has proven itself with over 80 awarded grants and numerous pilot projects.
They monetize through direct sales, recurring service contracts, licensing agreements, strategic joint venture formation and/or the sale of the IP. Several of our technologies are commercially available and are advancing as disrupters in their respective markets.
President Biden's tackle on the infrastructure of Clean Water
In Biden's $715 billion Infrastructure bill it highlights that nearly $170 billion will be going to clean water and wastewater projects. The bill will provide nearly $170 billion USD to clean water and wastewater projects through 2022 to 2026
In fiscal year 2022 appropriation of $70,000,000 will be given.
In fiscal year 2023 appropriation of $80,000,000 will be given.
In fiscal year 2024 appropriation of $100,000,000 will be given.
In fiscal year 2025 appropriation of $120,000,000 will be given.
In fiscal year 2026 appropriation of $140,000,000 will be given.
PFAS (per- and polyfluoroalkyl substances) has been found in more than 1,400 communities in the U.S. The Biden bill has declared a $170 billion dollar clean up, with Michael Reagan promising strong action on the issue.
How BioLargo benefits from this bill
BioLargo has developed ground breaking and patented water treatment called the Advanced Oxidation System (AOS) platform or Acqueous Electrostatic Concentrator (AEC). In a first-of-its-kind technology this system platform provides high level disinfection against bacteria, viruses and protozoa while eliminating hard-to-treat organic contaminants. This platform consumes less electricity than any competing technology, more cost-effective and is able to bring high-efficiency and low-cost water treatment to numerous industries such as the livestock & agriculture, oil & gas, municipal tertiary, stormwater, pharmaceutical, heavy industrial, and mining industries.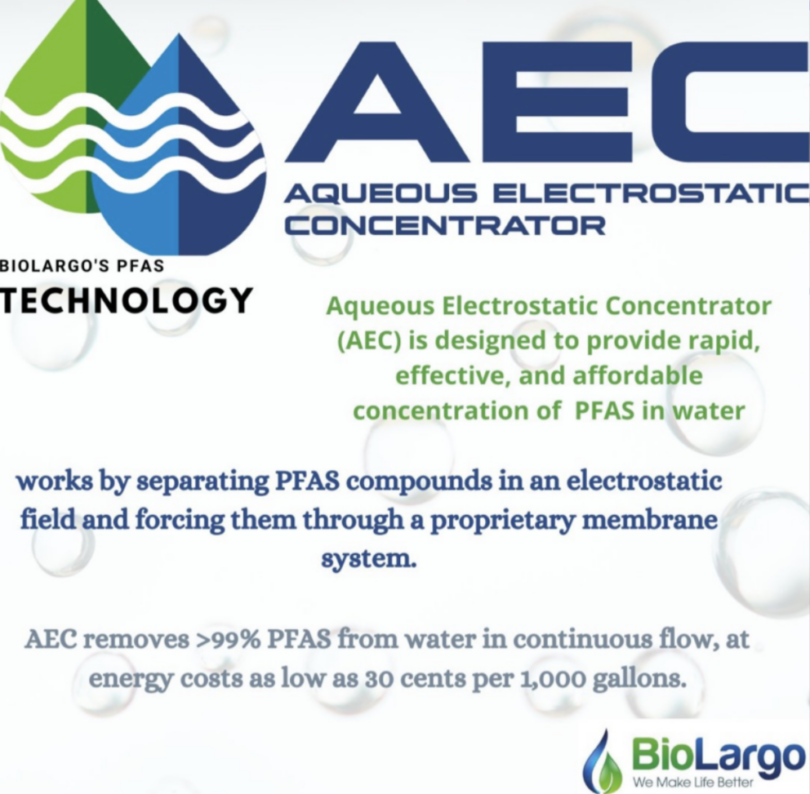 They have created a technology that can remove PFAS (per- and polyfluoroalkyl substances) chemicals from water quickly and economically without creating carbon waste associated with the current technologies, by using electrolysis to extract PFAS molecules from water and deposit them on membranes.
These chemicals are fueling a crisis in the United States and other nations as their longevity in the environment and their link to various cancers , thyroid issues and other medical disorders.
Synthetic chemicals such as ones that are polluting the water industry is used in countless manufacturing processes which includes the manufacturing of countless consumer items, including food packaging, cleaning supplies and non-stick cookware, as well as firefighting foam.
A third party analysis by the University of Tennessee found that AEC captures 99.995% of PFAS contaminated in water. Now, BioLargo is developing a commercial-sized unit to be used in projects in the USA including industrial sites military bases and airports.
"The standard technology for removing PFAS from contaminated water involves activated carbon filtration. While carbon works relatively well, the process generates tons of PFAS-laden waste. Municipal water services would have to ship hundreds of containers of carbon waste to be incinerated, which could create toxic volatile air contaminants and greenhouse gases, at the end of a treatment cycle, instead of having 80,000 pounds of waste, we might have 85 pounds. BioLargo is also working on a sustainable way of extracting PFAS from the spent membrane, destroying the PFAS, and sending the membrane residue to a landfill."

BioLargo President – Randall Moore
They already have another project in the works with Garratt-Callahan (GC has 5 manufacturing locations across the USA). BioLargo's customers currently range from the United States Air Force (USAF) to some of the largest food producers and chemical companies, waste handling companies, natural gas companies, and major government agencies such as the Department of Energy (DOE) and have already established a Joint Venture with big water companies Tomorrow Water and BKT regarding their odor elimination and has agreed to install their AEC platform in pilot studies with large industries users that could bring in revenue if trials are successful.
BioLargo's 10-K Financial Highlights
Revenue/Debt/Expense Highlights
Consolidated revenue for the three months ended March 31, 2021 was $571,000, a 30% increase compared to the prior year's period.

Due in large part to an almost 90% decrease in interest expense as a result of payment and conversion of debt instruments, the company's net loss for the three months ended March 31, 2021, decreased by 28% as compared to the prior year's period.

In 2021, the company has retired $650,000 in debt. Since December 31, 2019, the company has reduced its debt by over $3.6 million. Other than debt owed by its partially owned subsidiary Clyra Medical, only SBA/PPP loans and fixed-price convertible debt now remain on BioLargo's balance sheet. Of the fixed price convertible debt, we are currently negotiating the payoff and partial conversion of the $406,000 due in August 2021, and $50,000 is due in two years.

As a result of the company's improved balance sheet, its total stockholder equity is now approximately $772,000. Management expects this trend will be critical to the company as it continues to evaluate the opportunity to uplist its stock to a national stock exchange.
Commercial, Operational and R&D highlights
 Established a partnership with Garratt-Callahan, a national industrial water treatment company, to develop and sell custom wastewater treatment and recycling equipment. This dynamic partnership is expanding to include the sales of other BioLargo products and services to Garratt-Callahan customers.

The first commercial-scale unit of the company's Advanced Oxidation System (AOS) water treatment technology began a pilot project at a municipal wastewater treatment plant near Montréal, Québec.

BioLargo's treatment technology for per- and polyfluoroalkyl substances (PFAS) underwent a technical advancement, which was the subject of a recently submitted patent application, that improves the lifespan of the AEC's membranes and the technology's overall commercial outlook.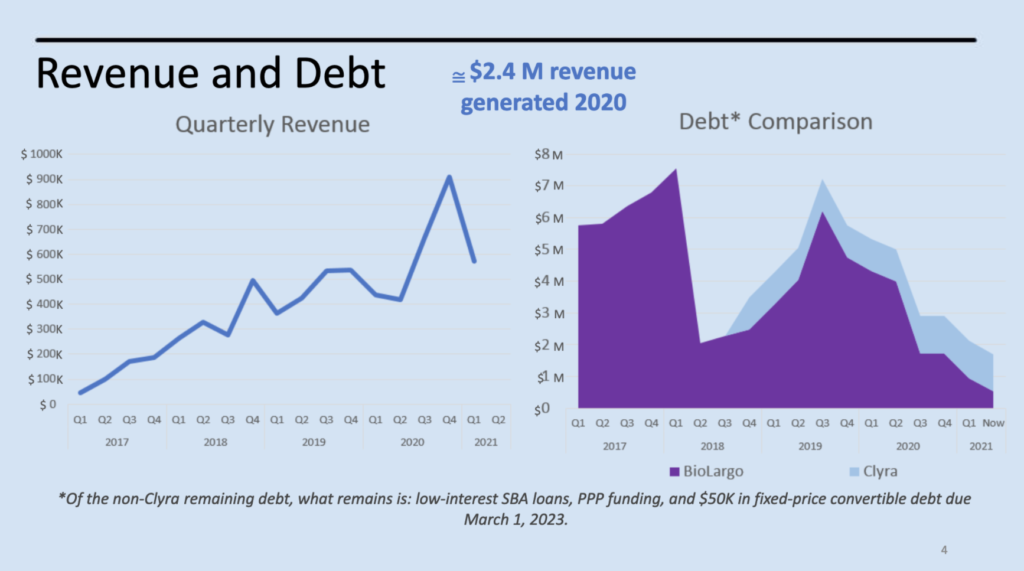 The company is working with prospective partners to plan and schedule the first commercial pilots for the AEC technology as soon as possible.

BioLargo Engineering's just signed additional contracts for 1.2 million while their project backlog grew to a value of over $3 million, to be executed over the next 12-18 months.

ONM Environmental added a new air quality control product technology called EcoMist®, a technology that sprays trash bins with odor control products during trash collection
What does this mean for BioLargo (BLGO) stock?
The bottom line is that BioLargo is working with big companies to reduce contaminants in our water supply. The company has reduced debt and has cash on hand for projects over the next 2 years. Given that Michael Reagan, son of Ronald Reagan has deep concerns for clean water, BioLargo is a good stock to invest in because of their one of a kind innovative technology and great balance sheet coupled with the Biden Infrastructure bill.