Beachbody ($BODY) is a fitness company that's been operating for 20+ years (founded in 1998). They've just recently completed a three-way merger with Forest Road and Myx Fitness.
Beachbody has brought their digital content, fitness instructors and subscribers, as well as nutritional products to the table. Myx Fitness has brought their fitness equipment.
Under the name Beachbody, they plan to be a competitor of Peloton, but aiming at the "everyman" market as opposed to the health nut/upper-income market like Peloton. For that reason, their subscriptions and equipment are cheaper.
———————————————————————————————-
Here's what makes it look so good:
400 million in cash on hand
Zero debt and 10% margin EBITDA (This is for Beachbody pre-merger and is according to an interview with Carl Daikeler)
3.2 million subscribers
95.8% month over month digital retention (94.8% average)
1 billion in combined revenue estimated for 2023
Has some big names on board – Arnold Schwarzenegger, LeBron James, Shaq
*(In 2018, Congdon co-founded a personalized nutrition programming and tracking app with "*FaceTime for fitness" live group classes called Openfit. The company acquired LeBron James and Arnold Schwarzenegger's Ladder, which develops nutritional products to help athletes with severe cramping after James had issues in the 2014 NBA finals. The terms of the deal were not disclosed, James and Schwarzenegger remained minority stakeholders. They are model influencers for the app and produce content/workouts for OpenFit and have 21 million and 73 million followers respectively.)
Has experienced CEOS directing things, especially in the area of digital content service – Kevin Mayer (ex-CEO of TikTok, and ex-VP of Disney+), Carl Daikeler (CEO and founder of Beachbody), Jon Longdon (CEO of OpenFit and co-founder of Beachbody)
Has a relationship with LA Fitness, giving LA Fitness, Esporta Fitness, and City Sports members the ability add OpenFit to their existing gym membership
Openfit (part of Beachbody) and Concierge Health announced a partnership to provide insurance policy olders and corporate wellness program members with compelling rewards and reimbursements based on their activity in the Openfit app
Carl Daikeler claims he doesn't plan to sell a single share (this is purely speculative so it depends on whether or not you trust he'd keep his word – I'm not banking on that tbh)
————————————————————————————————
So, basically, we've got a company with experience, seemingly good financials, a massive subscriber pool (many of whom are fanatical like PTON subscribers), rapidly-increasing deals, and excellent retention rate. Below is the projected revenue for 2023-2025.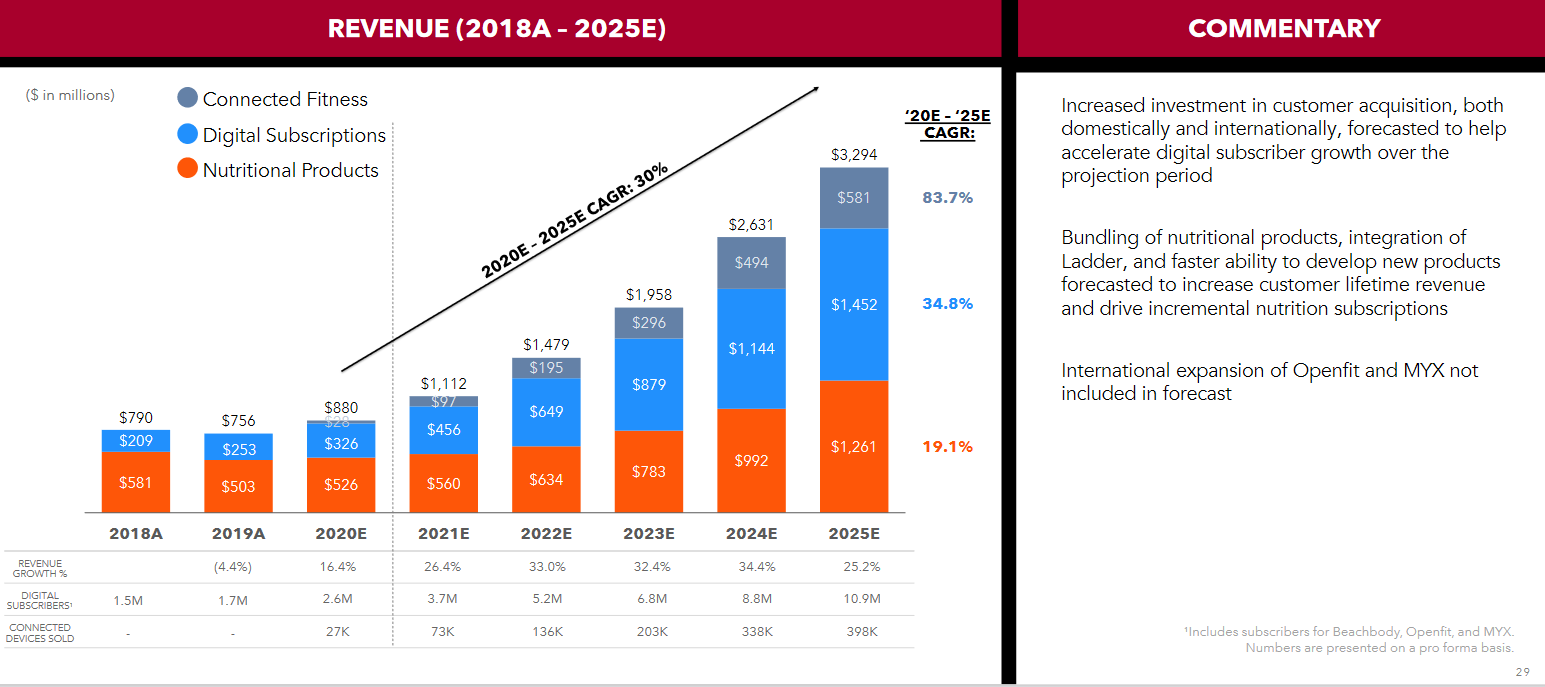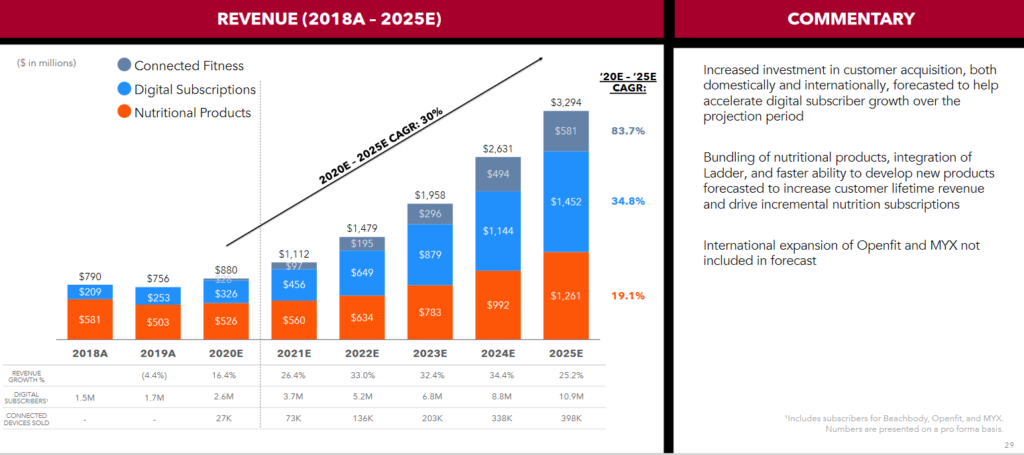 You can read about the details of expected earnings, their plans and products through the investor presentation.
———————————————
So, with all this promise, why is the price of the stock so low?
Well, for one thing, it has just merged, and a drop after de-spacing while people lock in profits is common. Also, Beachbody hasn't had much PR, so there hasn't been a lot to push this stock up. It's relatively undiscovered by the wider market and volume is low.
Market makers have been using this to their advantage, and are having a great time stomping on retail. They've been shorting it heavily, taking it as low as it can go to make maximum profit.
For this reason, buying shares rather than options is the better choice imo. Last month, the MMs took the stock price down to precisely $9.99 at the very end of the day of expiry of $10 calls, so that they'd all expire worthless. The manipulation was blatant. It's highly likely they'll keep it under $10 this week as well as calls expire.
———————————————-
So, if MMs are controlling this stock, why am I bullish?
Because all it takes is a bit of PR and volume, and this stock could explode. The MMs are controlling this right now BECAUSE THEY CAN, but it's impossible for that to last forever once there's PR, earnings and the wider market recognises its value. They've shorted it HEAVILY, and last I read it was at approx. 27% short interest percentage, and only 40,000 shares available to short.
It's also been the only NYSE stock along with $AMC on the short sale restriction list this past week.
Catalysts are already starting which is recently pushing up the share price. What are the catalysts? PR, analyst PTs and earnings.
The first 2 analysts have brought out their PTs – one at $12 and another at $16, so analysts thus far are decidedly bullish on $BODY. Upon the $16 PT, the stock rose approx. 2 dollars.
Also, this was pre-merger, but when Shaq did a single tweet about BODY, it jumped about 50 cents – $1.00 (I can't remember the exact amount) within 1 minute.
This shows you how quickly the stock could rise on some good news.
Beachbody's CEO Carl states they plan to spend a lot of their cash on marketing, so we can expect to hear more and more about Beachbody in the coming months.
Now, I can't say how much the MMs are allowing this price rise right now and how much is organic, but the fact of the matter is, in this current market and with all the catalysts expected to come, it's not possible for them to maintain this low share price permanently. At some point they have to cover or reverse position.
——————————————-
Short Squeeze *(NO, I don't think this will happen)
Some people are talking about a short squeeze, which, yes, it's a potential short squeeze candidate, but if there's one thing $GME and $AMC has shown us, it's that you need a LOT of buying pressure and diamond-handed apes to even have a chance of that. It's pretty rare to have a short squeeze happen, and I'm not hanging my hopes on that. The thing is, in my opinion, we don't NEED a short squeeze here. The MMs must know that this isn't a sustainable position for a growing company, but since we're still early in the game, they can eke as much money as possible out of retail before more big boys and more retail buyers load in.
A lot of people, including myself, aren't selling because it's obvious this stock is worth more than its current price. It's only a matter of time.
———————————————————-
Competitors
There are a lot of up-and-coming competitors, and they are only likely to increase, but I'm going to be looking at the main competitors at this time, or the ones that appear imo to have potential.
They are as follows:
Peloton
Apple Fitness +
Nautilus
iFit/NordicTrack
———————————————
Peloton
There's no denying Peloton ($PTON) is dominating right now. They're doing fantastically with their branding, marketing and innovation. Just recently, they announced a corporate program allowing companies to purchase Peloton packages for their employees. This is an excellent move as we come out of the pandemic, and I expect we'll see more moves like this in the future from Peloton.
I wrote DD on PTON a few months ago, so you can read more about them in my post history. So far (fingers crossed), my DD has been pretty spot on with that, and I'm still very bullish on it. The only thing I can see taking PTON down at this point are market corrections, which will take all our bubbly stocks down. If that happens, I see it recovering eventually since I do believe this is a future tech.
Do I think Beachbody will become as big as Peloton? At this point, no, I don't. Beachbody has had some big hits like P90X and Insanity in the past, and they have a lot going for them with respect to revenue and subscriber base. However, despite being the original "at-home workout" brand, they became outdated and in this new tech sector, they're following rather than innovating.
In my opinion they will need to show some type of innovation to have a chance of investors seeing a long-term future with them.
One current advantage they have is that they are a well-known name, and they are aiming for a target market that Peloton hasn't covered yet, which is the more casual fitness user/people on a budget.
Apple Fitness +
Apple Fitness + is a potential threat mostly to Peloton, but only if they decide to produce equipment imo. Why? Because they have a massive subscriber base ready-made, and the ability to link a lot of products together. If it's just the app, it's competing with content only. For this reason, it's important for Peloton to get ahead of them and corner the market fast, especially in the commercial area so that they can become the industry standard.
For Beachbody, since it is aimed at the "everyman" and person-on-a-budget, while Apple could still take some market share, it's less likely to be steamrolled. Why? Because Apple aims at a similar market to Peloton – people with higher incomes. Apple is likely to be taking more market share from Peloton's target market than Beachbody's.
Nautilus
This one is useful to compare with since they are an "everyman" competitor with a stock price (sitting at $15.48 at time of writing).
They originally went public through a reverse merger with Perspective in 1999. Their revenue last year was $553 million (Beachbody = $864 million in 2020). They currently focus on at-home equipment.
Their connected fitness service (JRNY) costs $19.99 per montt/$149 per year, or $9.99 per month on your own device.
Again, they have here the edge in equipment while I believe Beachbody has the edge in content. I couldn't find information on their number of subscribers. However, JRNY was developed last year only, so it's relatively new suggesting a low amount of subscribers at present. Their app has 1,080 reviews with a pretty lousy 2.6 star rating while Beachbody has over 22,000 reviews and a 4.8 star rating.
iFit/NordicTrack
This also aims at the "everyman", and is looking to reinvent itself after Peloton's success.
iFit and NordicTrack are both owned by ICON Health and Fitness – a company that's been around since the 1970s developing exercise equipment. It developed iFit and pairs it with its NordicTrack equipment. Last year it made revenue exceeding $1.5 billion and has a valuation of $7 billion. Currently, Beachbody made $864 million and is on track to make $1 billion revenue this year. It also has a valuation of approx. $3 billion.
You could say that ICON is coming from the opposite side, having specialized in equipment and now developing content, while Beachbody has specialized in content and is now using Myx Fitness to develop equipment, as well as combining their content. Beachbody will need to do some catch-up on NordicTrack when it comes to developing equipment since NordicTrack already has treadmills and ellipticals along with their bike.
However, bear in mind that the real money-making area is subscriptions. Even for Peloton, equipment only make a small portion of their revenue since most people can't afford or don't have the space for a home gym. Therefore, the real competition is going to be in the content and how well companies can get people signed up to their apps + keeping them there. iFit has a mere 330,000 subscribers in comparison to Beachboy's 3.2 million.
For comparison equipment-wise, a NordicTrack bike starts from $1,599 and a Myx Fitness (Beachbody) bike starts from $1,299. NordicTracks come with a 1-year free subscription to iFit ($15/mo or $39/mo for a family plan).
**Overall, I could see Beachbody competing with iFit/NordicTrack/ICON and Nautilus in the future.
Bearish Points:
This company will fail because it's got some MLM practices.
Beachbody has a branch of their business called "Team Beachbody". You can become a "coach", and as a result, you get discounts on products by helping others workout and by selling products to other people. Beachbody claims it's not an MLM, but imo it clearly is. And there's no doubt that it's brought some bad rep to their company, and stops some people from wanting to invest.
It doesn't bother mey, but I completely get if people don't want to invest for ethical reasons, or if they think it will cost the company in future. I could be wrong, but I'm of the opinion that unless they can reform that aspect of their business and pivot away from any MLM or scam-like practices, they don't have a chance of becoming a big contender in the industry long-term. Whether or not they do that, I don't know.
However, I personally am not looking for it to become the next Peloton. I'm simply finding that, with its current revenue, subscribers, and projected revenue, it is very undervalued, and that I consider an opportunity.
They have been in operation for 20+ years, much of it trading profitably, so it's a good sign for the future of it in a massive tech growth industry. The fitness industry itself is worth over $100 billion and growing rapidly, so there's a lot of money to go around.
Also, we can see for comparison, full-on MLM companies like Herbalife and Avon (at its height) that have managed to operate successfully, albeit not at a Peloton-level.
With their MLM aspect in play, I don't see this as a blue chip, hold-forever type of stock, but to get a good profit from the current stock price? It seems very promising because they CAN operate profitably and they are entering a growth industry.
2) Things are still speculative. We haven't seen their earnings yet.
Yep, fair enough. There is still some risk in that regard. There's also the likelihood this merger and future expenses like R&D and marketing will cut into their profits, possibly making it negative for a year or two like Peloton was. However, this current market is very bullish and forward-looking, so I could see the stock price going up or maintaining anyhow, especially since it's already so low. At this point, things are still volatile with the stock, and Beachbody needs to prove itself before we can expect the wider market to take much notice.
I'm not expecting this stock to launch into space, but providing there are no massive failures, it should at least come into its value.
3) This is a pandemic stock. After the pandemic is over, it'll crash along with Peloton.
It certainly looks like we're in a bubble right now, and many are holding their breath for when that bubble might burst, or at least have a bunch of corrections. I can see it happening with Peloton at some point (it's already had a correction though it's climbing back up), but this stock price is already so low, it can't really fall much further, so in that way it's very low-risk compared to a lot of other investments. Great upside, small downside. Also, the pandemic has changed things permanently, and while I agree it has given stocks like PTON a big boost, I'm of the belief that this technology is going to be the future, so I'd expect both PTON and BODY to recover eventually, even if they happen to be brought down by corrections.
4) They're not innovative. What is their moat?
Beachbody has been innovative in the past. In 2015 they created Beachbody on Demand, which was designed to be the "Netflix for fitness". They were also the big name in home workouts, and came up with certain successes like P90x and Insanity. At-home workouts is Beachbody's territory.
However, as mentioned before, they have faded out and have become a market follower rather than a market leader. Peloton has taken that space and is doing it well.
Do I think they have a moat right now? Over Peloton, my answer is no. Over other competitors aiming at the "everyman" market? Yes. They currently have an edge in their name, their ready-made content, and their ready-made subscribers. They also have in-depth knowledge of the at-home workout industry. How long they can keep and effectively use that edge remains to be seen.
Reviews
To get an idea of how people see them here are some reviews I found-
Beachbody on Demand streaming service (appears to be pre-merger reviews)
Beachbody app Here are
Bodi (their drinks)
TrustPilot (the general company so different aspects) – This one is the most bearish sign imo since there have been recent complaints about customers having trouble unsubscribing and being changed. If they can't fix that, they'll be in trouble long-term.
Summary:
While they could always surprise me, based on their past failures in innovation, I'm not expecting Beachbody to be the next Peloton. However, they've managed to operate profitably for many years, and they have some advantage entering into this new take on the fitness industry. Having the ex-TikTok and ex-Disney+ CEO on board is a bullish sign for me since he should be able to help them significantly with their digital pivot. My hope also is that he can help them with innovation and branding. Myx Fitness too should bring in some fresh thinking.
I'm not looking at this stock as being one of the big boys of the future, but as a decent competitor in its respective target market. For this reason, I'm bullish that it can achieve a 2-3 x increase within the next 1-2 years, if not sooner.
This article was written by u/PrincessMonsterShark