Today, Shiba INU's price has risen over 35%.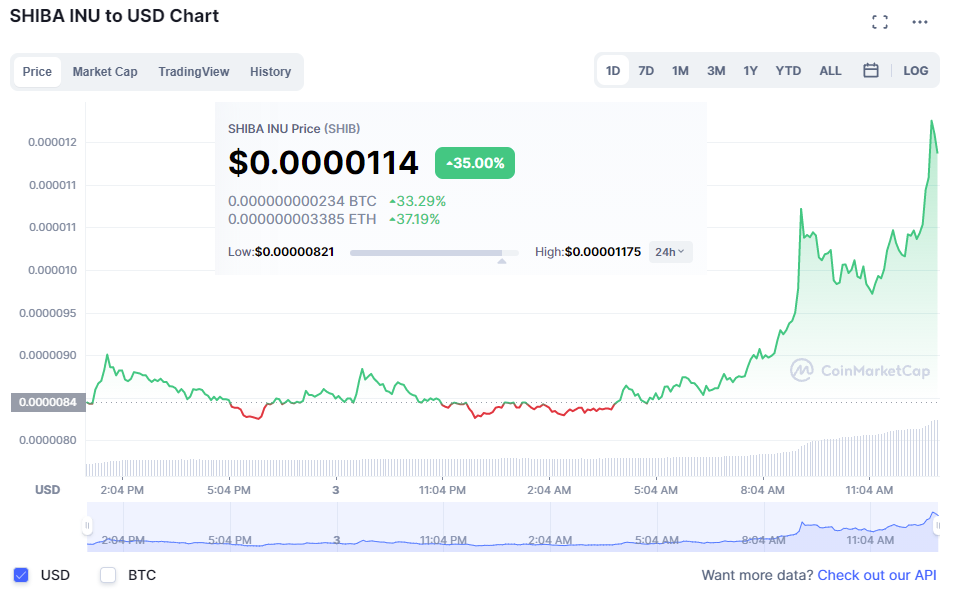 Musk's dog, Floki, is a shiba inu, which is both the coin's namesake and the symbol of dogecoin. Musk initially tweeted a picture of his shiba inu on Sept. 12 with the caption "Floki has arrived."
As a result of the recent post, the hashtag #SHIB began to trend on Twitter, as retail traders applauded the price increase. According to statistics from TopStonks.com, the shiba inu currency, which was created in August 2020 as an Ethereum-based alternative to Dogecoin, had a rise in comments on 4chan Monday as well.
Many people on Twitter pointed out that the coin's decimal was missing a zero. Despite the increase to 0.00001090 cents, the coin still has a value of less than a penny. According to Coinbase.com data, the shiba inu currency has increased by nearly 8,000 percent in the last year.
Unlike more established currencies like ether and bitcoin, retail traders have been flocking to altcoins like dogecoin and shiba inu because the dramatic price swings frequently result in large payouts. Insider previously claimed that one New York family made a $9 million fortune from the imitation coin.
Though his influence over the crypto market has waned, the "Elon Musk Effect" has been a significant factor in spectacular cryptocurrency price fluctuations this year. Others have joined in to keep the dogecoin hype going, including billionaire investor Mark Cuban and AMC CEO Adam Aron.