On May 12th, 2021 electric vehicle maker, Tesla's CEO Elon Musk posted this tweet:
Saying that Tesla suspended vehicles purchases using bitcoin. Because of this Bitcoin has fell nearly 18.2% which equates to nearly $10,400 since Elon Musk's post.
Elon Musk states that:
"We are concerned about rapidly increasing use of fossil fuels for Bitcoin Mining and transactions, especially coal, which has the worst emissions of any fuel"

Elon Musk – via twitter @elonmusk
Currently, Tesla's CEO Elon Musk is looking for a cryptocurrency that uses sustainable energy, in other words, Green energy to mine and transact less than 1% of Bitcoin's energy.
As stated in a previous article, Tesla's Elon Musk slams BTC, XRP is what he could be looking for Ripple may be what he's looking for since XRP is designed for sustainability.
Why Gold is Rising
As you can see on Barchart below: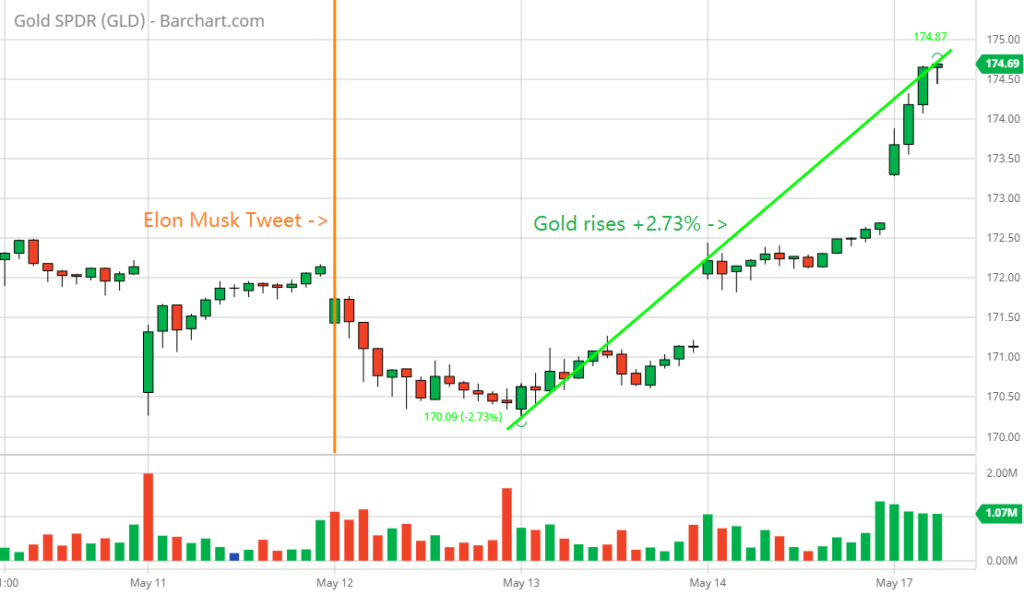 That after May 12th, the day of Elon Musks tweet, Gold significantly rises +2.73%. As Bitcoin continues to fall, investors will be transitioning their money to a more safer play, which is to park their money into gold.
Gold may continue to rise until Bitcoin finds support or a reversal.